A few weeks ago an energy industry executive that I look up to asked me a simple but great question: what gap in energy industry analytics is most significant to leaders? While I'd never thought of it this way in the past it took me only a couple of seconds to come up with my answer: demand scenarios! This is because over the past couple of years, many of my clients and I found ourselves repeatedly identifying the rise of the digitally-empowered customer as a gap in their vision of the future. Then came COVID19 to expose our limited understanding of digitally-induced demand dynamics and the associated risks not only for energy but across different industries. Many businesses now are keeping busy with their own digital strategies. But the future implications of the digital revolution on the behaviors and demand profiles of B2B clients and individual end users are rarely well understood. Winners during the ongoing health and economic crisis are mostly businesses that had historically better aligned their visions and strategies with the digitally-empowered customer. This alignment is more relevant now than ever as we all are getting more intimate with our devices while we socially distance from each other.
But don't get me wrong. Aligning your business with the digitally-empowered customer is not just about perfecting ecommerce and digital marketing. It begins with a robust prediction of potential behavioral shifts and their implications on demand in your sector. The digital revolution is already empowering the individual customer in many different ways. Discussed below, these trends are here to stay and grow. How about your brand and business?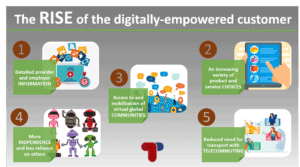 1. Access to an increasing amount of detailed product, service, and business information
Real-time access to detailed information about products, services, and their providers is getting easier every day. This information comes in different forms and shapes including customer and expert reviews. Businesses and individuals are now able to make their purchasing decisions on a much more informed basis, even without speaking to a single person. This means that unfavorable information about a single transaction or employee experience can remain online and hurt brands indefinitely. Winning businesses and leaders know how to use this challenge to their advantage.
The electronics industry is a great example where users, experts, and companies make it very straight forward for us all to compare product features and find the right fit for our needs with the least amount of effort. Electronic companies themselves report on the bugs and shortcomings in their products and how they plan to fix them in upgrades or new releases.
Do you have full knowledge of all the information that would influence perceptions about your brand? What are you doing to contribute to the dialogue in ways that strengthen your brand?
2. An expanding variety of product and service choices
Digital technologies enable providers to reach customers that they wouldn't have been able to reach otherwise due to financial or geographic constraints. Digital marketing requires much less financial commitment than traditional marketing. I am intrigued by how the digital revolution is challenging law and medical practices with all the new choices that are available to their empowered customers. Through search engines, social media, and specialized websites it is so easy to find and compare legal and healthcare providers in so many different ways. One bad patient or client experience can easily send a few prospective patients and clients away. Lawyers are starting to get much more active on social media, and doctors are probably next!
Barriers to new entry in many industries are also reduced by the ability of smaller, new entrants to adopt new technologies more easily and faster than larger, more established businesses. Clients now can easily find product and service choices that are more aligned with their own technology preferences, systems, or workflows. Through creative solutions, leaders of larger organization can turn this challenge into an opportunity as well. For example, tech conglomerates like Google, Facebook, Amazon and Alibaba have established internal venture studios to spin off innovative startups that are not limited by the legacy systems of the parent organization.
How is the digital revolution changing the competitive landscape in your sector? In what way will you leverage technology not only to stay but also to be ahead of the game?
3. The ability to form, join, and mobilize large virtual global communities
This may seem like it has much more relevance to politics. The ability of one or a few individuals to virtually ignite major social movements and revolutions has been changing the lives of billions of people during this last decade. As a result, economies and business environments are also being transformed in unimaginable ways. One recent example is the growing impact of Black Lives Matter (BLM), a movement that was founded in 2013 to address police brutality in the US. BLM's expansion to become a global movement was only made possible through social media. What used to be a national concern is now an international issue.
These global cause-based communities are now able to not only change the socioeconomic landscape for businesses, but also directly make or break a brand. The effect of global virtual communities on individual preferences and brand perceptions is growing rapidly. In extreme instances, calls on social media to boycott businesses based on their stances on political or social issues can have serious implications on established brands. Even Facebook saw some losses as a result of the recent ad boycotts.
Are you familiar with the global communities where your customers and prospects hang out? How well are your values aligned with their causes?
4. More Independence, Less Reliance on Others
Imagine how our lives would have been during the COVID19 crisis if digital technologies weren't making us this independent. While painful to many parents, teachers, and school administrators, their collective success in saving the academic year could have been impossible to achieve just five years ago. The list of applications enabling client independence had been growing fast even prior to the coronavirus outbreak: e-learning, homeschooling, electronic trading platforms, online banking, e-commerce, online health assessments, nutrition and exercise apps, etc. Digital technology is not just eliminating the need for some middlemen but also expert hours since expertise can now be digitally packaged and sold and resold to millions of clients indefinitely. This is in addition to the expanding application of robotics ranging from helping the elderly with independent living to helping doctors with surgeries.
For businesses, the challenges range from declining demand for their services and products to increasing competition from nontraditional providers.  This new competitive challenge comes in the form of digital or digitally-packaged and/or delivered products and services that improve client independence. At the same time, new opportunities are surfacing for those who are willing to get creative about product design and delivery and client engagement.
How is digital technology improving client independence and tightening competition in your sector? What product features or client engagement strategies will make you the go-to provider for those who are seeking more independence?
5. Reduced Need for Transport with Telecommuting, Telemedicine, Teleworking, etc
This is a trend that has clearly been accelerated by the COVID19 crisis. The preference for telecommuting is expected to remain strong for some time due to the challenges associated with reopening economies at a sustainable pace. Post COVID19, the pandemic's prolonged socioeconomic and behavioral effects could mean that many of us will continue to travel much less by land, sea, and air. There will clearly be direct implications on the transport, aircraft and automobile manufacturing and energy sectors. In the energy industry, for example, the muted desire to drive or fly places downward pressure on transport fuel demand but upward pressure on residential power demand. This could improve prospects for renewable energy and other electricity generation sources.
Also, some other sectors will see second order impacts from telecommuting such as the hospitality industry. When working or spending our vacations at home, restaurants will suffer from lower dine-in and take-out demand. Likewise, hotels may continue to see much less in-person conventions and conferences for some time. On the positive side, the broadband industry is picking up much higher demand.
What kind of first, second, or even third order impacts is your industry seeing from the proliferation of telecommuting? What are your plans to navigate the challenges and capitalize on the opportunities?
The socioeconomic transformation associated with the rise of the digitally-empowered customer is already reshaping competitive landscapes and demand profiles. Success now hinges on the ability of leaders to revisit future visions accordingly and strategize for new challenges and opportunities surfacing as a result of the rise of the digitally-empowered customer.
Contact us to learn more about how we partner with our clients to navigate the digital revolution and other major transformations